As we settle into the routine of another baseball season, there are so many uncertainties regarding players, teams, and who might be standing as the World Series Champion at the end of the season. It is those uncertainties that give us the memorable moments and thrills as we journey through the baseball season. Uncertainties allow for endless baseball debate and ongoing dialogue between fans of the game. Statcast, scouting reports, and baseball experts all try to temper the uncertainties of the baseball season…but they still exist. The Amazin' Mets showed why the games need to be played out.
Many Happening's in the Summer of '69
This baseball season, however, does allow for one certainty that was bred out of uncertainty many decades go. This summer marks the 50th anniversary of the 1969 World Series Champion New York Mets. These young ball players, who were in their 20s and 30's, now in their 70s and 80's, earned their place in baseball history and American folklore during the iconic summer of '69. Woodstock, the first Moon Walk, and the Amazin' Mets we're experienced within months of one another to close out the wild and turbulent decade of the 60's.
There were dueling backdrops for most of the 60's and to the events that transpired within that timeframe. The decade of the 60's brought the civil rights movement to the forefront, and rightfully so. This was a necessary and painful societal growing pain, long in the works. Another backdrop was Vietnam, bringing with it, division and grief to our way of life.
A Team and a Moment Meet
This brings us back to the Amazin' Mets. Coming into the season of 1969, the New York Mets brought a long and infamous history of losing. So much so, they were known as the "lovable losers". Things, however, took a turn in 1969. Elite pitching, timely hitting, strong defense, and a manager who brought these young ball players together as a TEAM, became the recipe for a most unexpected and unimaginable ride to a World Series Championship. The Amazin's gave America small respite from their day to day worries. The Mets had a date with destiny. A destiny many believed to be the impossible. An improbable World Series victory. During this highly volatile snapshot in American history, the actions and accomplishments of these young man were enjoyed by more than just the fans in New York City but by the people of the entire nation. That is how this team became an enduring mark in time and will be forever remembered long after this 50th Anniversary season long celebration.
During this summer, some of the '69 Mets will be accessible at various shows, functions, and book signing for autographs and photographs. I will be relaying information on the the fellows in my monthly newsletter. As these memorable Mets advance in age, opportunities to meet with them will lessen. For those fans of a certain age, meeting a member '69 Mets will bring a flood of memories and joy. The younger fans will have the chance to connect past and present and have a memory that will last a lifetime. Take full advantage of this 50th Anniversary summer, after all… they were Amazin'.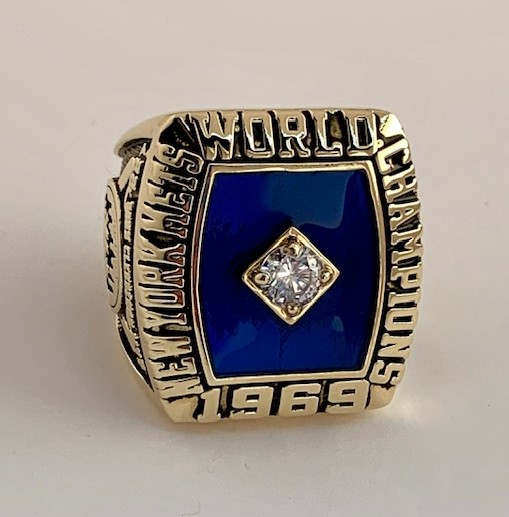 Check Out our Deal of the Month
Use Coupon Code 1969 to receive 10% off
1969 New York Mets World Series Replica Ring.
Celebrate the 50th Anniversary of the Amazin's.
A stunning addition to your Mets collection and a perfect display piece.
Join Our Newsletter
Receive timely and valuable info on Auctions, Sports Collectible Shows, Awesome Websites as well as our latest Special Offers and Coupon Codes.